Tension and balance of contrasting shapes play a major role in my sculptures. I explore the aesthetic beauty of shapes found in biology and the human form and juxtapose these with designs found in manufactured products. In doing so, I strive to disrupt the symmetry and predictability of these forms, while preserving the integrity of the sculpture.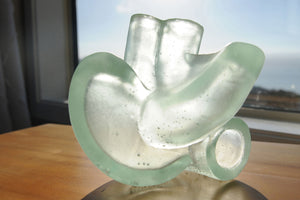 Glass
The glass sculptures are kiln cast using the lost wax technique. With the hollow sculptures, it creates an extra dimension, enabling the interior to become a feature. The casting process introduces air bubbles in the glass, particularly in the hollow sculptures. This creates more texture and interest in the piece. Open base sculptures have a LED cabinet light fitted inside. The other sculptures come with a cabinet light recessed into a circular base made from beech.
Bronze
The bronze sculptures are cast by the lost wax technique and are mounted on polished black limestone or black granite.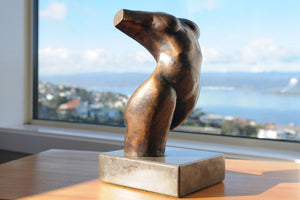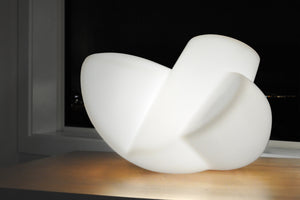 Polythene Lamps
These moulded plastic sculptures came out of a demand for affordable art and a desire to produce larger work. They are made locally using a rotational aluminium mould. The base of the sculpture is removable and has a LED cabinet light fitted inside, connected to a wall plug adapter. Besides white they are also available in red, green and turquoise. They can be used as décor lighting in the home, office, hotel, restaurant, bar and hospital. Enquire about discounts on multiple orders.